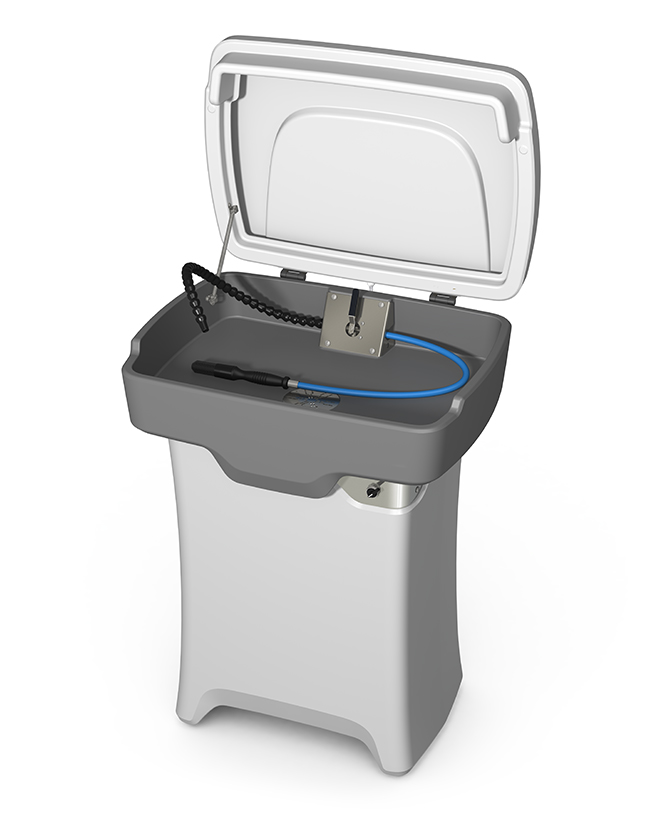 Aqueous Parts Washer
#APW20
Stop using harsh solvents, and get a greener clean.
Our air-operated parts washer works with aqueous (water-based) chemistry, so it's easier on your parts, your hands, and the planet.
Counter-height work surface – 36 in. (91.4 cm)
18 x 30 in. (45.7 x 76.2 cm) sink interior
Weight capacity – up to 400 lbs. (181.4 kg)
Choose your chemistry – works with most aqueous (water-based) cleaning & degreasing products
Adjustable output –

Flow-through brush and flexible rinse line – use simultaneously or separately

Sink drain grate to catch small parts
Top-access 250 micron filter
Lid with hold-open support – limits evaporation, but stays out of your way
Fluid capacity – 20 gallons (75.7 liters)
Durable construction
Designed for serviceability

Modular design – easily separate base, sink, and control modules
Sloped interior base to collect sediment away from pump intake
Round interior corners for easy reservoir cleaning

Also available in a heated electrically operated version >>
Datasheet
Aqueous and Heated Aqueous Parts Washers
Questions?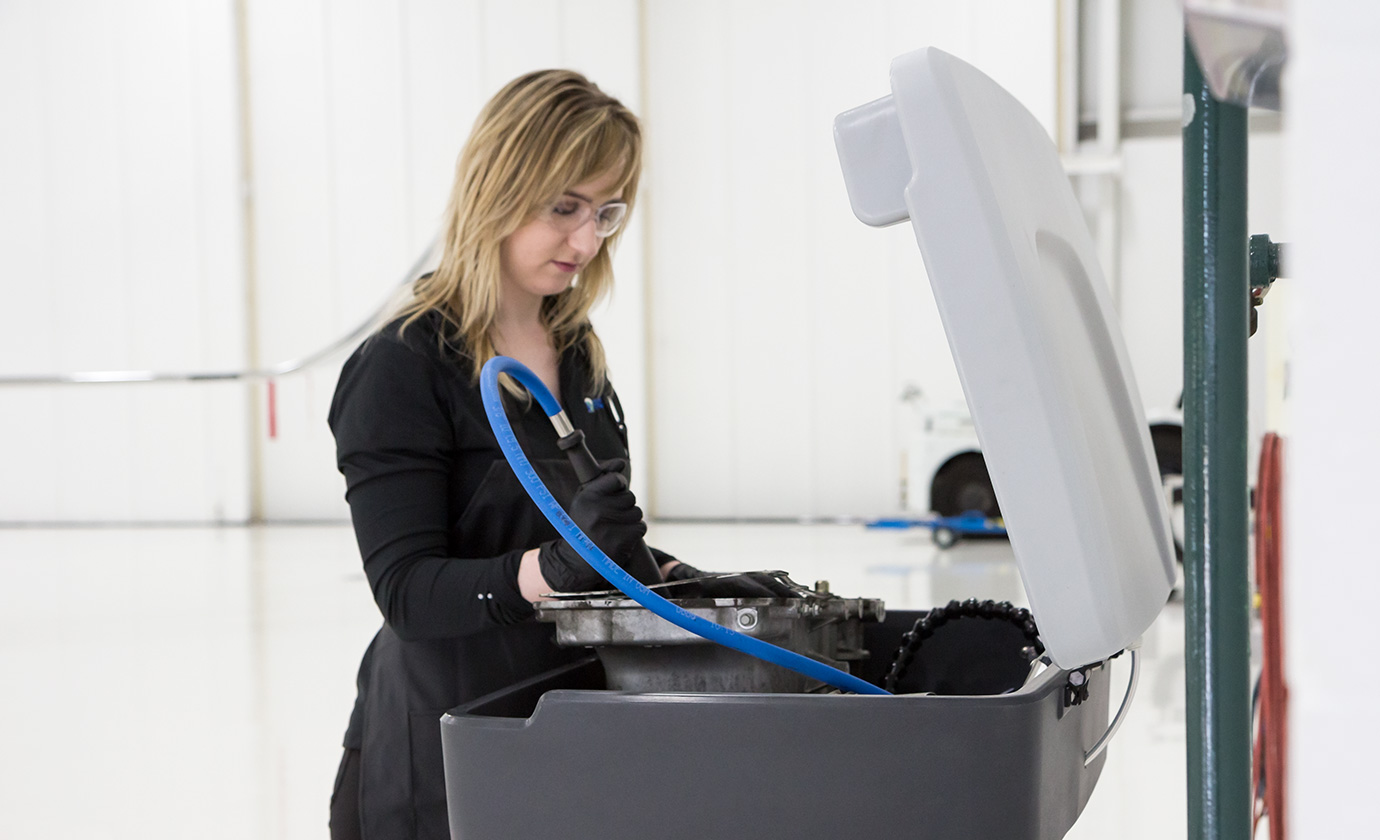 POWER TYPE

Compressed air

CHEMICAL PICKUP TYPE

Draws from pre-mixed solution

NUMBER OF PRODUCTS UNIT CAN DRAW FROM

One product

SUCTION LINE LENGTH/DIAMETER

3.5 ft. (1 m) hose with 1/2 in. (12.7 mm) inside diameter

FLUID CAPACITY

20 gallons (75.7 liters)

OUTPUT LINES

FLOW-THROUGH BRUSH:
3 ft. (0.9 m) hose with 1/4 in. (6.4 mm) inside diameter and flow-through brush

FLEXIBLE RINSE LINE:
2 ft. (0.6 m) modular hose with 1/2 in. (12.7 mm) inside diameter and 1/2 in. (12.7 mm) round nozzle

FLOW RATE

110 gal/hour (416.4 l/hour) at 25 psi (1.7 bar)

FILTER BAG

250 micron rating, size 4

WEIGHT CAPACITY

Up to 400 lbs. (181.4 kg)

OVERALL EXTERIOR DIMENSIONS

33 x 25 x 65 in. (83.8 x 63.5 x 165.1 cm) with lid open

SINK INTERIOR DIMENSIONS

30 x 18 x 5 in. (76.2 x 45.7 x 12.7 cm)

WORK SURFACE HEIGHT

36 in. (91.4 cm)

FOOT TYPE

Four adjustable leveling feet

CERTIFICATIONS

Conforms to UL Std. 1204
Certified to CSA Std. 22.2# 68
INCOMING COMPRESSED AIR REQUIREMENTS

25-80 psi (1.7-5.6 bar) with 3 cfm (85 l/min)

RECOMMENDED OPERATING AIR PRESSURE

25 psi (1.7 bar) with 1.5 cfm (42.5 l/min)

INCOMING LIQUID TEMPERATURE RANGE

40-100 ˚F (4.4-37 ˚C)
NOTE: This unit does not heat the solution.

CHEMICAL COMPATIBILITY

For use with aqueous solutions only. Chemical products used with this equipment must be formulated for this type of application and compatible with unit materials and pump seals. For more information on chemical compatibility, consult the manufacturer or SDS for your product or contact our customer service department.
Options

Color options available – order minimums may apply. Contact sales@foamit.com for more info.
Complete unit (modular base, sink, & control box)
Four leveling feet
Sink drain grate and filter bag
User manual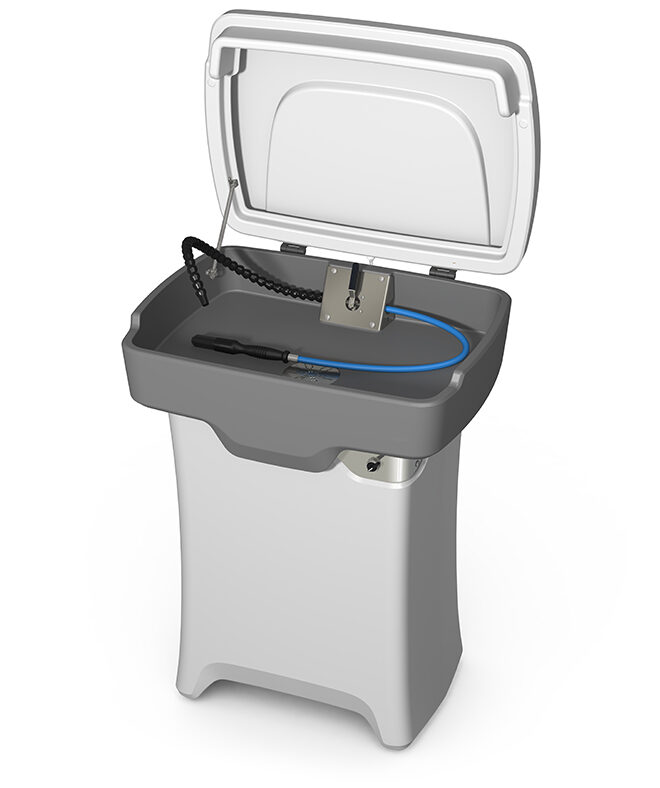 Wondering How to Buy?
We have distributors all over the world. Tell us a little bit about you and your equipment needs, and we'll help you find or become a distributor.