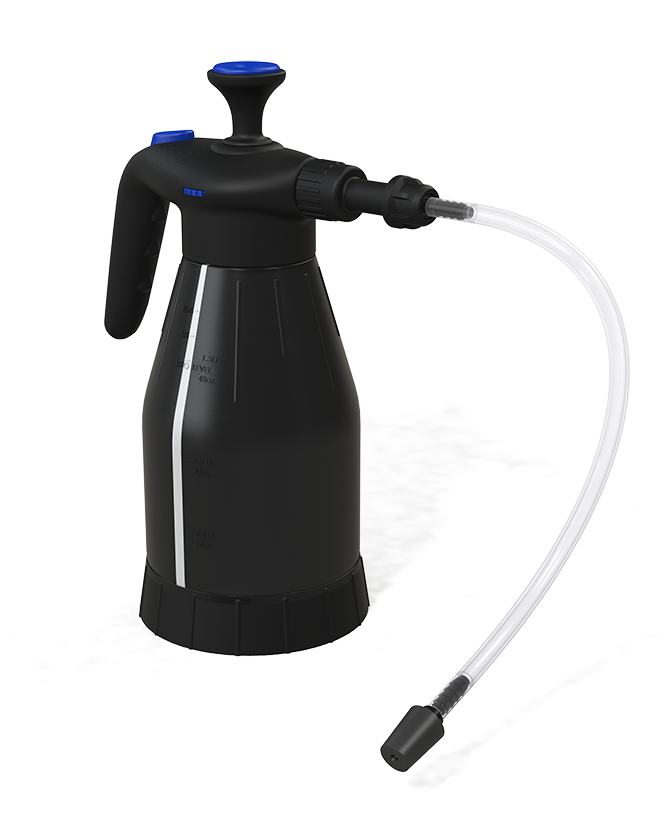 0.4 Gallon Foam Unit with 0.75 inch Drain Attachment
#F1.5LBK-DP.75
Features
Compact unit with manual pump
Maximum portability for small jobs and spot cleaning
Comfortable grip handle with trigger for quick on/off control
Drain plug attachment to fit drains up to 0.75 in. diameter
Pressure relief valve for safety
Viton pump seals for chemical compatibility
Polypropylene tank and pump head
View stripe for easy visibility of product levels
Stability base with gripping notches
Color coding options:
CHEMICAL PICKUP TYPE

Draws from pre-mixed solution

NUMBER OF PRODUCTS UNIT CAN DRAW FROM

One product

CAPACITY

0.4 gallon (1.5 liter)

DISCHARGE WAND/TIP TYPE

Polypropylene trigger handle with drain attachment with 0.75 in. plug
LIQUID TEMPERATURE RANGE

40-100˚F (4.4-37˚C)

CHEMICAL COMPATIBILITY

Chemical products used with this equipment must be formulated for this type of application and compatible with unit materials and pump seals. For more information on chemical compatibility, consult the manufacturer or SDS for your product or contact our customer service department.
Options

TANK COLOR
F1.5L
White (standard)
-DP.75
Black (BK)

Add option codes to item number as shown.  For standard options, no option code is needed.  Examples:

F1.5L-DP.75 (standard unit with 0.75 in. drain attachment)
F1.5LBK-DP.75 (standard unit with black tank with 0.75 in. drain attachment)
Complete foam unit with drain attachment
User manual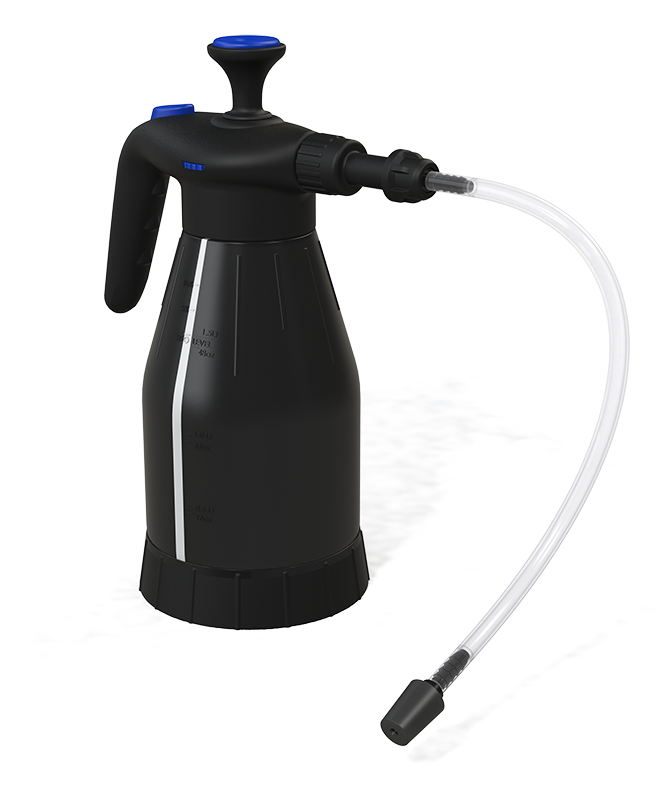 Wondering How to Buy?
We have distributors all over the world. Tell us a little bit about you and your equipment needs, and we'll help you find or become a distributor.