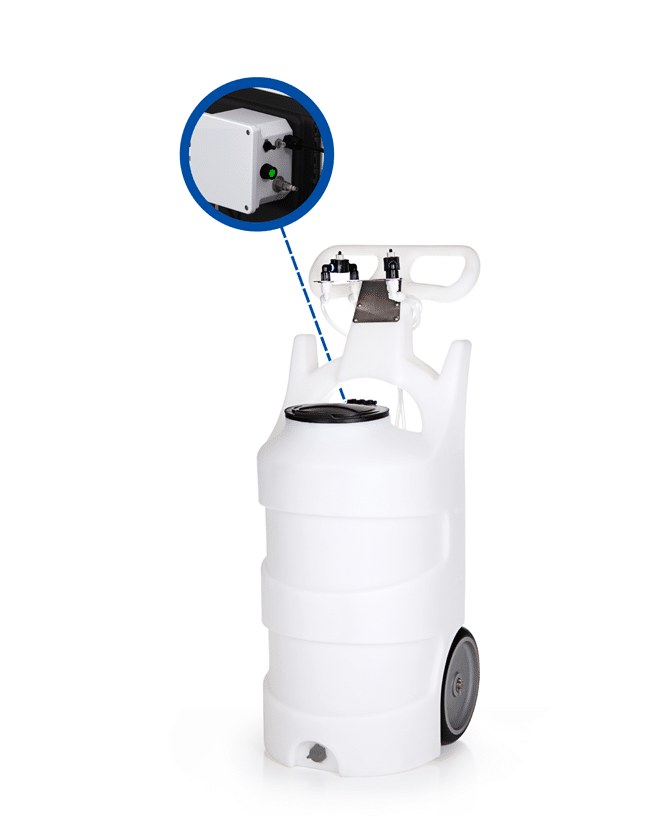 10 Gallon Mist Unit with 2 Nozzles and Timer
#MU-10N-2-TM
Features
Efficient air consumption (7.7 cfm, competing products consume 39 cfm)
Timer version allows for situations where personnel need to be cleared from a space and/or overnight cleaning
Deactivate unit from a distance
Easy-to-use delay timer
2 nozzles mounted on unit handle
10 gallon (37.8 liter) tank
Hinged back plate
Natural color tank for easy product level visibility
Hinged lid – available in 5 colors
Front-facing drain
Santoprene, Viton, or Kalrez pump seals available
In-line strainer
Datasheet
10 Gallon Mist Unit with 2 Nozzles and Timer
User Manual
10 Gallon Mist Unit with 2 Nozzles and Timer - User Manual
Questions?
POWER TYPE

Compressed air and electricity

CHEMICAL PICKUP TYPE

Draws from pre-mixed solution

NUMBER OF PRODUCTS UNIT CAN DRAW FROM

One product

CAPACITY

12.5 gallons (47.32 liters)

FLOW RATE*

3.7 gal/hour at each nozzle (7.4 gallons/hour total with 2 nozzles)

PUMP SEALS

Santoprene, Viton, or Kalrez

TIMER OPERATION TYPE

Single shot timer with delay

DROPLET SIZE

15 microns at 50 psi

COVERAGE AREA**

1 liter of solution will cover approximately 1000 cubic feet (up to system max of 47,320 cubic feet)

HEIGHT

41 inches (104 cm)

RUN TIME FROM FULL TANK**

Approx 1.5 hours

NOZZLE TYPE

Pneumatic Mist Nozzle

NUMBER OF NOZZLES

2 nozzles
*Dilution rates and flow rates given are based on chemical with viscosity of water and factory air pressure settings.
**Area covered and run time may vary based on humidity, air flow, and product used.
COMPRESSED AIR REQUIREMENTS

50 psi (3.4 bar) with 7 cfm (198.3 l/min)

LIQUID TEMPERATURE RANGE

40-100°F (4.4-37°C)

ELECTRICAL REQUIREMENTS

120 VAC at 60 Hz, 2 amps (GFCI protected outlet)

OPERATING VOLTAGE

120 VAC

CHEMICAL COMPATIBILITY

Chemical products used with this equipment must be formulated for this type of application and compatible with unit materials and pump seals. For more information on chemical compatibility, consult the manufacturer or SDS for your product or contact our customer service department.
Options

PUMP SEAL MATERIAL
MU-10N
Santoprene (standard)
-2-TM
Viton (V)
Kalrez (K)

Add option codes to item number as shown. For standard options, no option code is needed. Examples:

MU-10N-2-TM (standard unit with Santoprene pump seals)
MU-10NV-2-TM (unit with Viton pump seals)
Complete Unit with 2 nozzles and timer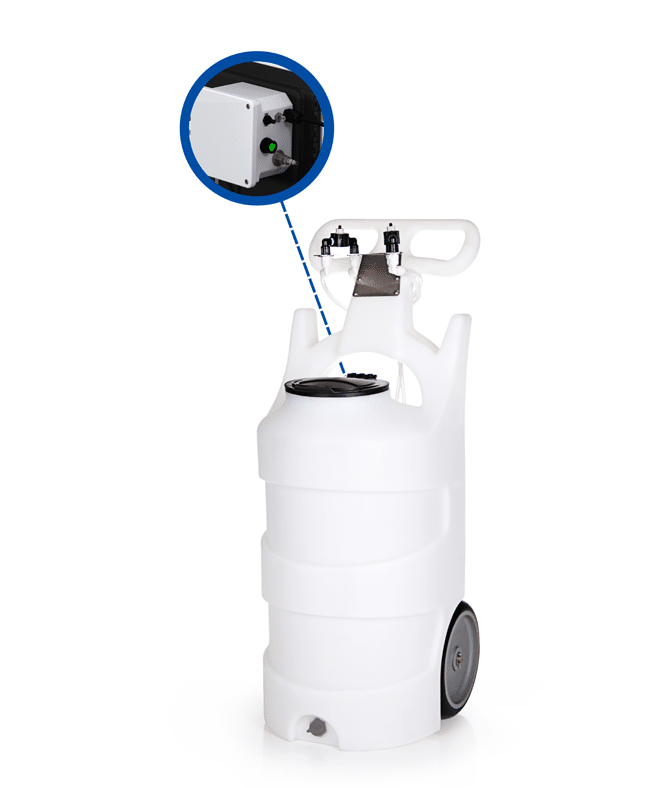 Wondering How to Buy?
We have distributors all over the world. Tell us a little bit about you and your equipment needs, and we'll help you find or become a distributor.