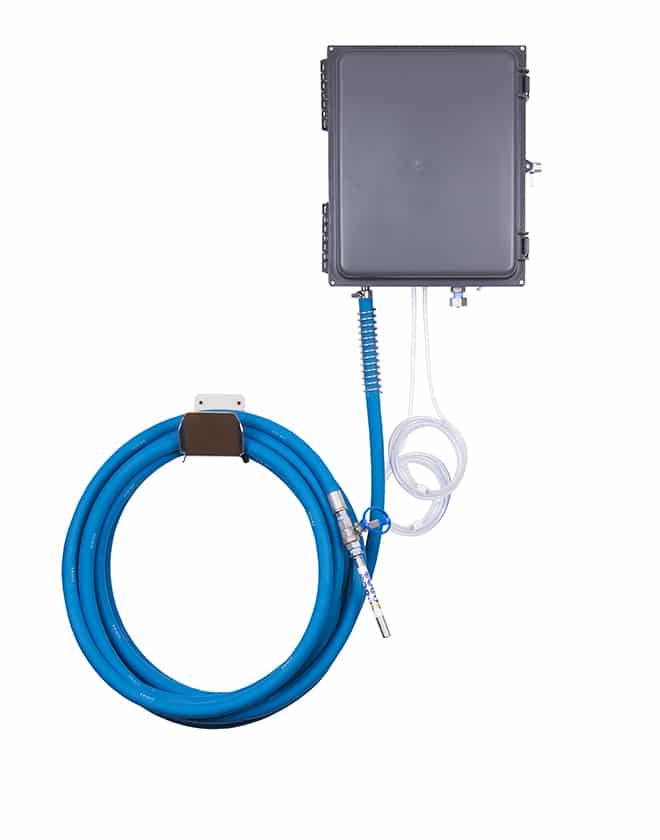 Concentrate Foam Unit for 2-Part Products
#FI-WC-2P
Features
Pump provides reliable dilution, regardless of water pressure fluctuations
Powered by compressed air
Draws from two concentrated products simultaneously
Ideal for 2-part products that need to be mixed on the fly
Dilutes at a rate of 8:1 to 150:1 (water:chemical) for each product
Requires water connection with 10-100 psi (0.69-69 bar) incoming water pressure
Anti-kink hose protection
Designed for easy maintenance – quick change pump
Customization options

Pump seal material for compatibility
Color coding – hose
Foam wand style – zero degree tip or fan tip
Stainless steel or all-poly fluid fittings
Datasheet
Concentrate Foam Unit for 2-Part Products
Questions?
POWER TYPE

Compressed air

CHEMICAL PICKUP TYPE

Draws from concentrated product

DILUTION RATIO RANGE (WATER:CHEMICAL)*

8:1 to 150:1

NUMBER OF PRODUCTS UNIT CAN DRAW FROM

Two products simultaneously

SUCTION LINE LENGTH/DIAMETER

8 ft. (2.4 m) clear hose with 1/4 in. (6.4 mm) inside diameter

DISCHARGE LINE LENGTH/DIAMETER

50 ft. (15 m) hose, with 3/4 in. (19 mm) inside diameter

DISCHARGE WAND/TIP TYPE

7 in. (17.8cm) stainless steel wand with zero tip and ball valve

OUTPUT DISTANCE

25-30 ft. (7-9 m)

OUTPUT VOLUME

20-45 gal/min (121 l/min)

FLOW RATE*

2 gal/min (7.6 l/min)

PUMP SEALS

Santoprene, Viton, or Kalrez

PRODUCT HEIGHT

18 in. (45.7 cm)
*Dilution rates and flow rates given are based on chemical with viscosity of water and factory air pressure settings.
COMPRESSED AIR REQUIREMENTS

40-80 psi (3-5 bar) with 5-10 cfm (141-283 l/min)

WATER REQUIREMENTS

30-100 psi (2.1-6.9 bar)

Backflow prevention is required – consult local plumbing ordinances for more information

LIQUID TEMPERATURE RANGE

40-100°F (4.4-37°C)

CHEMICAL COMPATIBILITY

Chemical products used with this equipment must be formulated for this type of application and compatible with unit materials and pump seals. For more information on chemical compatibility, consult the manufacturer or SDS for your product or contact or customer service department.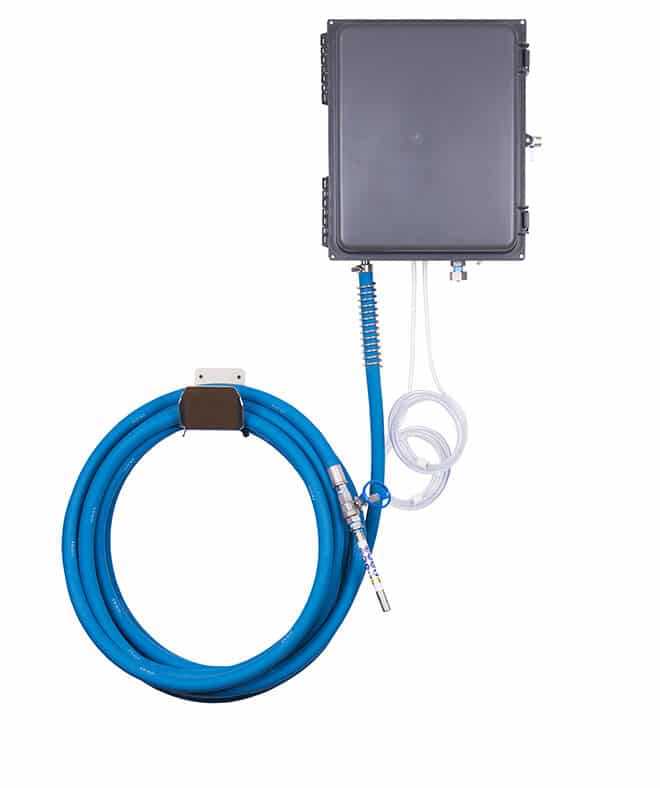 Wondering How to Buy?
We have distributors all over the world. Tell us a little bit about you and your equipment needs, and we'll help you find or become a distributor.