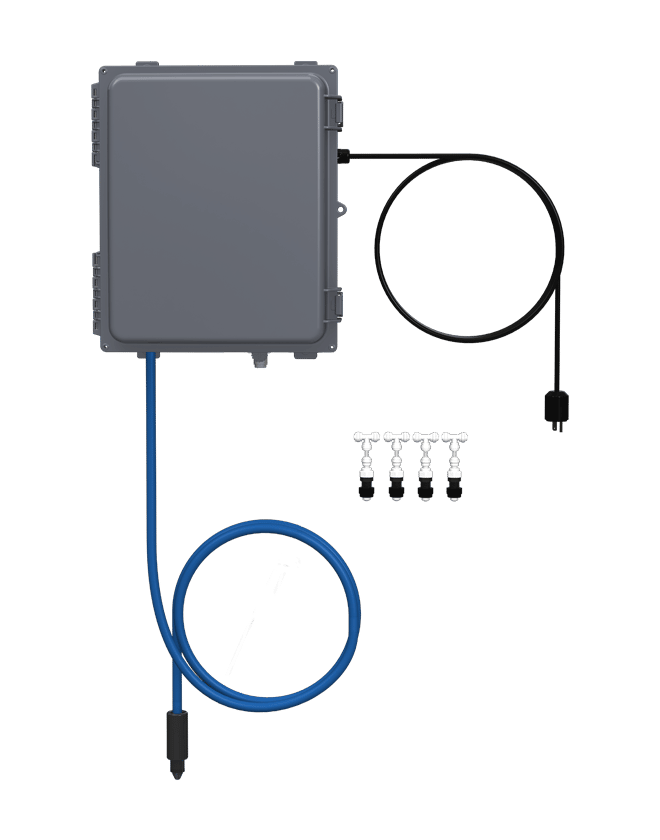 Wall Mounted Fog Unit
#FOG-IT-DS
Features
Designed as odor control for dumpsters

Can also be used for dust suppression, sanitizing, pesticides, and humidification.

Repeat cycle timer for measured output of chemistry
Higher output pressure than FOG-IT4
Repeat cycle timer
Quick-change pump
Adjustable tips for aiming fog
Toggle switch activation
Runs on electricity
Up to 6 nozzles per control box (depending on nozzle type)
User Manual
Wall Mounted Fog Unit - User Manual
Questions?
CHEMICAL PICKUP TYPE

Draws from pre-mixed solution

NUMBER OF PRODUCTS UNIT CAN DRAW FROM

One product

SUCTION LINE LENGTH/DIAMETER

8 ft. (2.4 m) hose with 3/8 in. (9.5 mm) inside diameter

OUTPUT DISTANCE

3-5 ft. (0.9-1.5 m)

OUTPUT VOLUME

6.4 oz/min (0.23 l/min) per nozzle

FLOW RATE*

6.4 oz/min (0.23 l/min) per nozzle

PUMP SEALS

Santoprene/EPDM

TIMER OPERATION TYPE

Repeat cycle

NOZZLE TYPE

Hollow cone spray tip

NUMBER OF NOZZLES

One control box can support up to 30 nozzles

DISTANCE FROM NOZZLES TO CONTROL BOX

The combined distance between the control box and the nozzle(s) must equal 200 ft. (61 m) or less

TUBING/FITTING SIZES

Designed for use with 1/4 in. (6.4 mm) outside diameter tubing between control box and nozzle(s)
*Dilution rates and flow rates given are based on chemical with viscosity of water and factory air pressure settings
LIQUID TEMPERATURE RANGE

40-100°F (4.4-37°C)

ELECTRICAL REQUIREMENTS

120 VAC at 60 Hz, 2 amps (GFCI protected outlet)

OPERATING VOLTAGE

120 VAC

CHEMICAL COMPATIBILITY

Chemical products used with this equipment must be formulated for this type of application and compatible with unit materials and pump seals. For more information on chemical compatibility, consult the manufacturer or SDS for your product or contact our customer service department.
Complete unit with 4 nozzles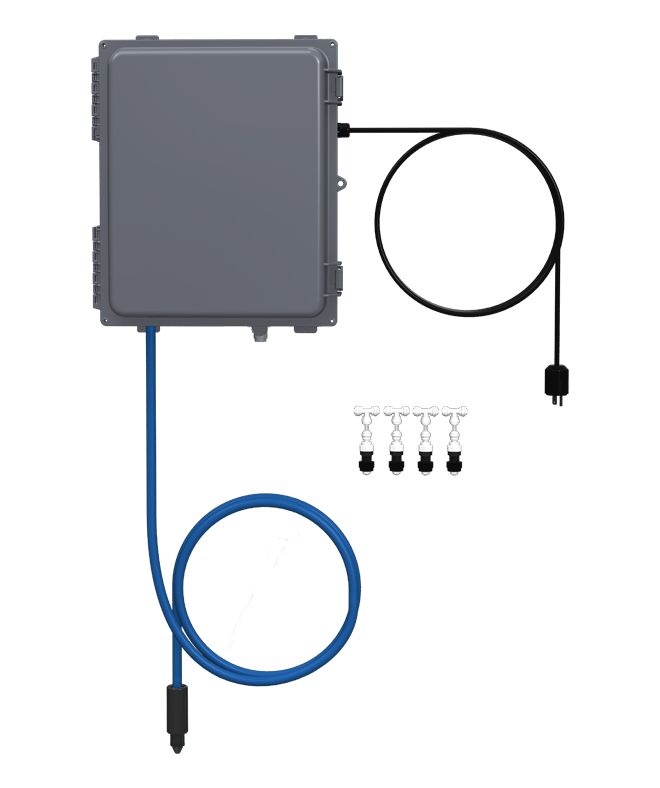 Wondering How to Buy?
We have distributors all over the world. Tell us a little bit about you and your equipment needs, and we'll help you find or become a distributor.