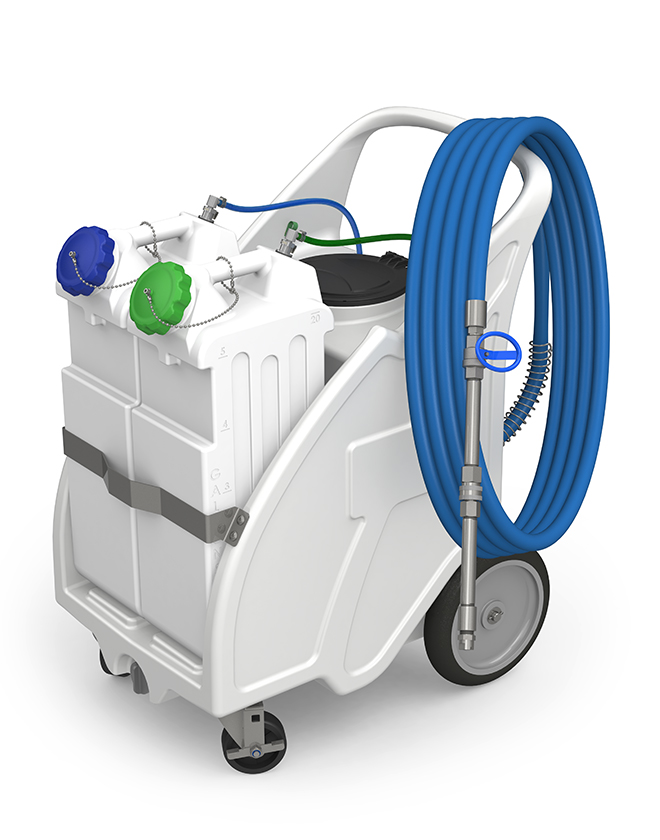 EZBlend Foam Unit
#FI-EZB-15NV
Features
Designed specifically for use with Sterilex products – part of the Sterilex EZBlend System >>
Draws from concentrated Sterilex products and dilutes on the fly to prevent waste
No need to pre-mix solution – only activate what you use, as you use it
Pre-set to dilute Sterilex products at labeled rate of 1:1:10 to 1:1:8 – no setup required
Includes two 5 gallon chemical jugs with quick-connect suction fittings
Save time with fewer chemical refills – two 5 gallon jugs of concentrate will make 45-50 gallons (170-189 liters) of solution. Just refill the water tank and keep foaming
User-friendly color coding on jugs and unit corresponds to Sterilex solution 1 and 2
Foam wand with fan tip for efficient surface coverage – ideal for environmental cleaning and disinfecting food contact surfaces
Quick connect wand can be easily interchanged with optional FOAM-iT attachments for drain foaming >>
Onboard water tank – 15 gallon (56.8 liter) capacity
Powered by compressed air
Viton pump seals for compatibility with Sterilex
Hinged back plate provides tool-free access to components
Quick-change pump
Hinged lid, available in 5 colors
Anti-kink hose protection
Translucent tank and jugs allow visibility of fill levels
Integrated hose wraps
Front-facing drain
In-line strainer to protect pump from debris
Designed for use with EZBlend Chemical Transfer Unit >>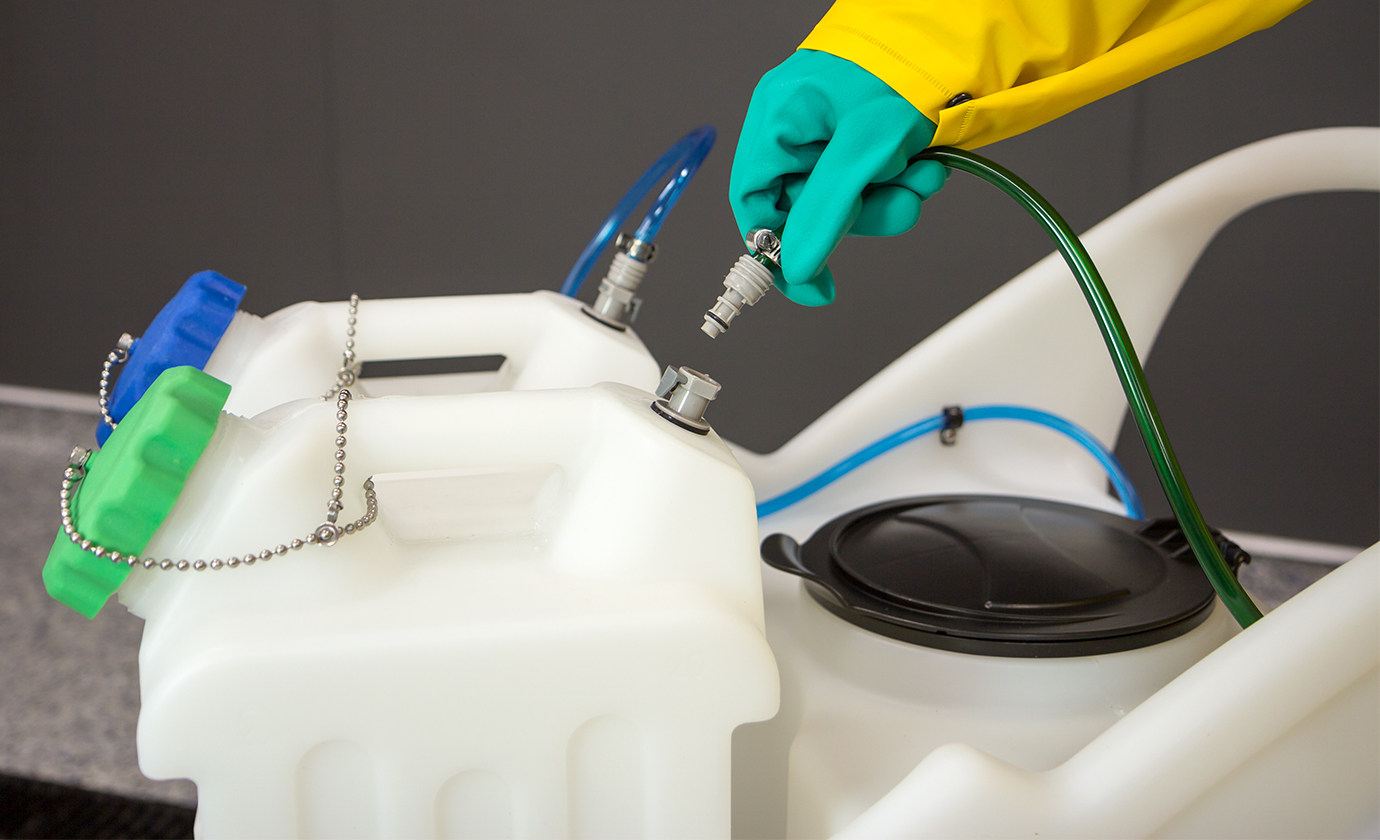 POWER TYPE

Compressed air

CHEMICAL PICKUP TYPE

Draws from concentrated product

DILUTION RATIO RANGE (CHEMICAL A : CHEMICAL B : WATER)*

12.8-16 fl. oz. : 12.8-16 fl. oz. : 1 gallon
(378.5-473.2 ml : 378.5-473.2 ml : 3.78 liters)

NUMBER OF PRODUCTS UNIT CAN DRAW FROM

Two products, simultaneously

SUCTION LINE LENGTH/DIAMETER

Two transparent suction lines, one blue and one green, each 4 ft. (1.2 m) long with 1/4 in. (6.4 mm) inside diameter; with quick disconnect fittings for chemical jugs

CAPACITY

15 gallons (56.78 liters) of water; Up to 10 gallons (37.85 liters) of concentrate

DISCHARGE LINE LENGTH/DIAMETER

30 ft. (9 m) hose, with 3/4 in. (19 mm) inside diameter

DISCHARGE WAND/TIP TYPE

12 in. (30.48 cm) stainless steel wand and ball valve with 65˚ fan tip; includes stainless quick connects

OUTPUT DISTANCE

10-12 ft. (3-4.6 m)

OUTPUT VOLUME

15-20 gal/min (56.8-75.7 l/min)

FLOW RATE*

2 gal/min (7.6 l/min)

WHEEL TYPE

Two 10 inch non-marking wheels, two 5 inch casters with lock
*Dilution rates and flow rates given are based on chemical with viscosity of water and factory air pressure settings.
COMPRESSED AIR REQUIREMENTS

60 psi (4.1 bar) with 5-10 cfm (141-283 l/min)

LIQUID TEMPERATURE RANGE

40-100˚F (4.4-37˚C)

CHEMICAL COMPATIBILITY

This unit is specifically configured for use with Sterilex liquid products.
Complete foam unit with discharge hose and wand
(2) 5 gallon chemical jugs with caps and suction fittings
User manual

Changing and cleaning the metering tip (EZB)
FI-EZB-15NV
Quick start guide: Sterilex EZBlend System
FI-EZB-15NV, CTX2V-EZB

How to change a pump - with quick-change pump bracket

How to replace a check valve

How to replace a hose or wand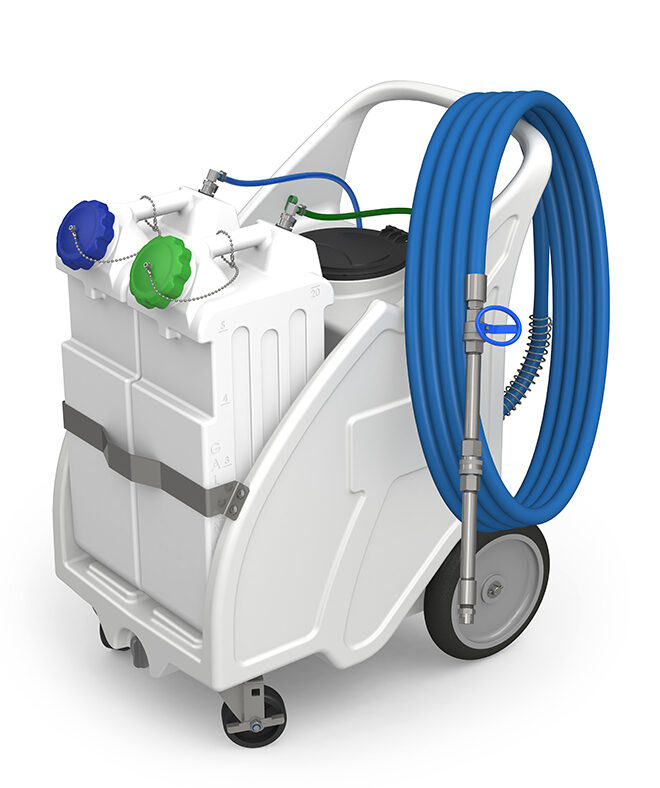 Wondering How to Buy?
We have distributors all over the world. Tell us a little bit about you and your equipment needs, and we'll help you find or become a distributor.